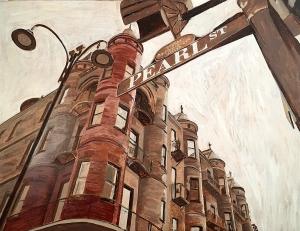 No matter how long one has been painting, writing, sculpting, acting, dancing; basically no matter how long one has been involved in the arts, there are always new challenges. If one looks back at the past ten years of my paintings it is easy to see that I have produced quite a few architectural paintings, urban cityscapes if you will, and at times I have felt quite comfortable working on these. The past two paintings I have completed have been a bit of a departure from that--a Vermont rural landsacape and a a cityscape that is quite dark--set at dusk as opposed to bright sun as many have been.

So, here I have returned to a daytime, sunlit architectural theme that is located in Burlington, VT. I've had this image for a few years and have had a constant internal debate as to how to approach it. In the same manner that I always have? In a more loose style similar to the New Orleans painting? It seems that the answer is neither. This will take a new approach, stretching some of the techniques I already know and, I hope, allowing me to learn new ones to get this piece to where I want it to be. I do know this....it will be a lengthy process.

This image is in the very early stages of adding the color glaze and detail. The monochromatice (burnt umber) underpainting was completed a while back. There will be many, many layers of glazed color of varying transparency added to this painting. I hope I am able to bring it to a satisfying completion.