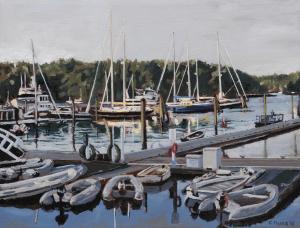 Since 2004 all of my paintings have been oil on panel. I have really grown to like the hard and rigid surface. That type of a surface lends itself to greater detail; and most of my paintings would be classified as "realistic", a term I really don't care for

On a whim I decided to try my next painting on canvas--a small one compared to the 18 x 24 or 18 x 30 panels I have been using. This painting is on an 11 x 14 canvas, and while I used the same techniques as my other paintings of recent years, it was a very different experience. The grain of the fabric makes it impossible to work with the same degree of detail that I usually do. Is that a good thing? Is it a bad thing? Or, is it simply something different; something that I should keep at for awhile to get used to again? I'm not sure. Half way through this painting I didn't want to use canvas again. However, since completing it I have gone back through some of my source material and found some subjects that may be better suited for a softer, looser approach. We shall see.

It is just so very interesting to continue to learn something with every piece. Who would have thought that at my age I would still be learning new techniques and ways of thinking. Stay tuned, as they say...