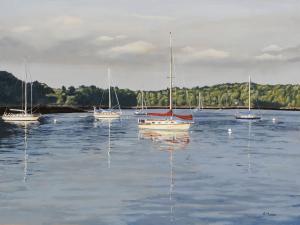 We have been in Maine for the past two months, exactly. It was May 14th that we pulled into the driveway at this beautiful location. We have been staying here while we pursue locating a new home in Vermont. That is accomplished. We close on the Vermont property in two days and will begin the process of moving what we brought with us over to Vermont, and await the arrival of all our other possessions that are currently in storage.

In the meantime, with difficulty I was able to complete the Evening Mooring painting last week. It has been difficult for several reasons. First of all, the barn location was a bit weather dependent. Immediately following the preparation of the space we suffered a cold spell--45 degrees and drizzle with no heat in the barn. Sorry--I'm not THAT dedicated. Second, we spend almost half the time here traveling back and forth to Vermont, about a four hour drive, and that causes a disjointed schedule. However, I'm very grateful for the opportunity to paint here.

There is likely to be further delay as we get into our new home and get everything set up. We'll see just how long it will take. My guess is that by the time I start painting again, the fall colors will be moving down the mountainsides to the east and west of our home. Can't wait!