July 14th, 2019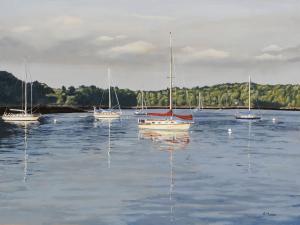 We have been in Maine for the past two months, exactly. It was May 14th that we pulled into the driveway at this beautiful location. We have been staying here while we pursue locating a new home in Vermont. That is accomplished. We close on the Vermont property in two days and will begin the process of moving what we brought with us over to Vermont, and await the arrival of all our other possessions that are currently in storage.

In the meantime, with difficulty I was able to complete the Evening Mooring painting last week. It has been difficult for several reasons. First of all, the barn location was a bit weather dependent. Immediately following the preparation of the space we suffered a cold spell--45 degrees and drizzle with no heat in the barn. Sorry--I'm not THAT dedicated. Second, we spend almost half the time here traveling back and forth to Vermont, about a four hour drive, and that causes a disjointed schedule. However, I'm very grateful for the opportunity to paint here.

There is likely to be further delay as we get into our new home and get everything set up. We'll see just how long it will take. My guess is that by the time I start painting again, the fall colors will be moving down the mountainsides to the east and west of our home. Can't wait!
May 28th, 2019

Maine. One of the consequences of a major relocation is that time and energy for activities like painting is spent elsewhere. Late last year we made the decision to leave Florida and return to New England where we have spent so many years of our lives. In addition, most of our family is currently located in the Northeast.

Everything happened quite quickly--we made the decision to vacate the home and stay with family in Maine until we land in Vermont. Within two weeks of that decision, we were gone. So, currently we're in Kennebunkport, Maine while our home in Tampa, Florida is under contract and hopefully will be sold before the end of June. We have started the project of looking for a new home.

In the meantime, the show must go on. Our quarters in Maine are on the small side, so rather than set up an easel and take down an easel every time I want to paint, with family assistance we cleaned out what used to be the tack room of a horse barn on the property (photo above.) Except for days like today, where the temperature is peaking at 50 degrees, it is a great place to paint.

Here's to an exciting period of time ahead. Also, I am fortunate that three of my paintings have been hung in the Northlight Gallery on Ocean Avenue in Kennebunkport. What a nice welcome back to New England!
April 9th, 2019
After uploading my most recent blog post, I looked back at the prior post and saw that I had repeated some of the information and experience of seeing Christopher Pothier's YouTube videos. Sorry about that, but it emphasizes the importance to me and the influence over me that he has. So, in that vein, it bears repeating. CM
April 9th, 2019
A recent theme of mine (if you can call my last post recent!) has been that I continue to learn something almost every time I pick up a brush. There are two flip sides to that. On the one hand, it helps me to realize that I haven't fallen into a complete rut; painting by rote the same thing over and over again. On the other hand, it makes me wonder why it took me so long to learn some of these things?

The attached image, as yet untitled and unfinished, is a case in point. For those who have looked at the history of my work this continues to be a move away from the majority of my work. While it is my fourth "seascape" or marine based painting, and while yes, boats are man made, it is very different from the earlier works, primarily representing more urban, man made structures. The techniques and methods used to capture the life of water and the life of the open light are different. A lot of it for me is experimental, meaning a lot of trial and error; a lot of error. But an old friend and mentor has come to my rescue again. Back in the early 2000's I took a series of classes at the New Hampshire Art Institute in Manchester, NH. One particular course was a figure painting class taught by Christopher Pothier. I learned more from that brief class than I probably had learned in all other classes combined. Chris stood by my side while we painted side by side, on the same canvas, explaining to me his technique and thought process. That six weeks changed my painting life. And as I have struggled to learn how to apply new techniques to new paintings, I stumbled on some of Christopher's videos on YouTube. He has his own website, a Facebook page and a presence on YouTube where he has generously posted videos of his work and his approach. I watched a 45 minute video where he explained some of his finishing technique and it was as if someone had turned on the proverbial light bulb. Viewing Chris as he worked and talked was as productive for me now as it was working side by side with him fifteen years ago. I will always be grateful to him for his generosity and willingness to share.

I had hoped to have this attached painting completed by now. However, as some may know, we are planning a relocation back to New England in the near future. Having one's house on the market and all that goes with it totally disrupts a regular routine, so sadly, painting has taken a bit of a backseat. We'll see how quickly that is resolved. Thanks for reading. CM
October 28th, 2018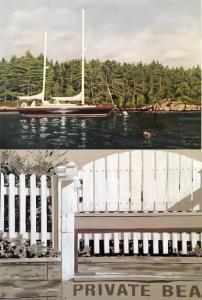 In my last entry, which was some months ago, I talked about continuing to learn in the later stage of my life. It was brought home to me again recently.

The attached image consists of two paintings that are currently in process. Both are 16x20 oil on panel. (By the way, in my last entry I talked about moving back to canvas after painting on panels for years. I've gone back to my old ways. Panels it is!) In any case, these two paintings represent two different types of painting. The bottom one is in the early stages. The pencil drawing has been converted to a "value" painting--using only burnt umber and white to create the under-painting without color. The top painting is much closer to completion, yet still approximately 10 hours away from being done. All areas of it need work and further development.

Here is where it gets interesting. The lower painting is much more representative of my earlier work--somewhat graphic in nature. Many of my previous paintings are of urban buildings--man made constructions and so on. And while the sailboat in the top painting is man made, the bulk of the scene is natural; water and forest. This is a continuation of the most recent paintings I have done based upon outdoor subjects photographed in Maine. These have taken me out of my comfort zone. I know how to paint bricks and walls, clapboards and windows. Water, trees and landscapes/seascapes are an entirely different matter and it has taken a lot of time to move this painting to it's current stage. I was helped immensely by watching a few YouTube videos posted by Christopher Pothier. https://www.christopherpothier.com/ Chris is a magnificent painter. I took a class from him twelve or thirteen years ago and learned as much or more from that class as I had learned in all others combined. So, I watched a couple of his YouTube postings where he explains and demonstrates his technique as he approaches the completion of a work.

I not only learned new ways to handle, apply and mix paint; I learned how to be more patient. I believe I am already patient in that my paintings take, on average, 40-50 hours to complete. However, watching and listening to Chris helped be realize that I wasn't patient or thoughtful enough. My first session on the sailboat painting after viewing the videos, confirmed I still had more to learn, but I also knew that I could now be a better painter than I have been. I am grateful that Chris is so willing to share his knowledge and experience. It is invaluable. Part of the lesson is to never assume that you know or have learned enough. There is always more. I should have the final version of the sailboat posted on the website within a week or two. The lower painting in the attached image will take longer. I have already reconsidered how to handle the detail of that painting and l am looking forward to sharing it.

I encourage you to view Christopher Pothier's work on his website. If you have an opportunity to visit any of the galleries that represent him, his work is stunning in person. We are privileged to have one of his originals hanging in our living room.

Until next time.

CM
June 7th, 2018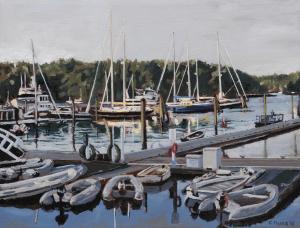 Since 2004 all of my paintings have been oil on panel. I have really grown to like the hard and rigid surface. That type of a surface lends itself to greater detail; and most of my paintings would be classified as "realistic", a term I really don't care for

On a whim I decided to try my next painting on canvas--a small one compared to the 18 x 24 or 18 x 30 panels I have been using. This painting is on an 11 x 14 canvas, and while I used the same techniques as my other paintings of recent years, it was a very different experience. The grain of the fabric makes it impossible to work with the same degree of detail that I usually do. Is that a good thing? Is it a bad thing? Or, is it simply something different; something that I should keep at for awhile to get used to again? I'm not sure. Half way through this painting I didn't want to use canvas again. However, since completing it I have gone back through some of my source material and found some subjects that may be better suited for a softer, looser approach. We shall see.

It is just so very interesting to continue to learn something with every piece. Who would have thought that at my age I would still be learning new techniques and ways of thinking. Stay tuned, as they say...
March 15th, 2018
As has been stated here since the outset, my paintings are all derived from my own photographs. Although I graduated college as a Studio Art Painting Major, I spent over forty years in the world of professional photography before really focusing on painting. I have recently decided that since less than one percent of my source photographs are selected to become paintings, I would like to share some of my photography with the public.

I have begun the long process of uploading images to Fine Art America. All of these images share the following: They were never considered to be used as paintings. They stand alone as photographs in that some images are more suited to stand as photographic images than paintings. All of the images were cropped in camera, meaning they are reproduced here as seen through the viewfinder. None of the photographs have been retouched, altered or filtered. I grew up on The Zone System, where previsualization of the final image was the key to capturing the image.

Back in "the old days", one could control the image by previsualizing what would be black, what would be white and what would be in between, either in black and white or in color. (Although The Zone System was designed and used for black and white photography, the basic principles of previsuallization apply to color photography as well.) Once the film was exposed in anticipation of the expected image, the film developing and printing process would complete the image and bring it, hopefully, to the previsualized conclusion. Such are all of the images that you will see on this site. While computers and software have brought many tools to a photographer's fingertips, the most important tools are the eyes and the brains of photographers to plan and execute successful imagery. The newer tools can be nice, but they can also be a gimimick; a means to let a machine or an algorithm do one's thinking, which in my humble opinion, is a mistake and a degradation of the process.

October 18th, 2017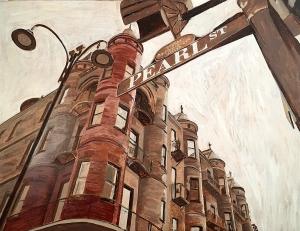 No matter how long one has been painting, writing, sculpting, acting, dancing; basically no matter how long one has been involved in the arts, there are always new challenges. If one looks back at the past ten years of my paintings it is easy to see that I have produced quite a few architectural paintings, urban cityscapes if you will, and at times I have felt quite comfortable working on these. The past two paintings I have completed have been a bit of a departure from that--a Vermont rural landsacape and a a cityscape that is quite dark--set at dusk as opposed to bright sun as many have been.

So, here I have returned to a daytime, sunlit architectural theme that is located in Burlington, VT. I've had this image for a few years and have had a constant internal debate as to how to approach it. In the same manner that I always have? In a more loose style similar to the New Orleans painting? It seems that the answer is neither. This will take a new approach, stretching some of the techniques I already know and, I hope, allowing me to learn new ones to get this piece to where I want it to be. I do know this....it will be a lengthy process.

This image is in the very early stages of adding the color glaze and detail. The monochromatice (burnt umber) underpainting was completed a while back. There will be many, many layers of glazed color of varying transparency added to this painting. I hope I am able to bring it to a satisfying completion.
August 31st, 2017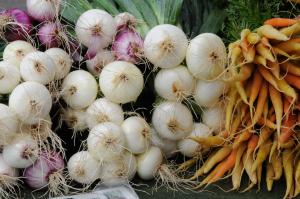 For years I have used my photography as an exclusive source for my paintings, and I will continue to do so. I have never released my photographs for any purpose, and once a photograph is used as a painting source, it is completely taken out of circulation for any other purpose. However, the consequence of this is that I have hundreds, and possibly thousands of images that go unseen. That is about to change. I have begun the painstaking process of reviewing over forty years worth of photography to select the most evocative images; images that have not and will not be used as paintings.

It has always been a laborious process to select images for paintings. For every 100 images captured, possibly 10 might be selected as potential paintings, and of those 10, maybe only 1 or 2 will be used. I have to decide is using a specific image as a painting going to create something better than the original? There are definitely photographs that should remain as photographs. I also need to be moved by the vision of the painting to invest the many hours it takes for completion. As I have outlined in other posts, my paintings are multi-step creations that take hours to complete.

So over the coming weeks, please keep an eye out for the creation of Photography Galleries. I hope you find them worthwhile.
August 14th, 2017
This image is further development of the image shown in the previous blog entry. It is not completed, but I hope, not too far off. If you have looked at my other recent paintings you can see that this one is a lot less rigid, a lot less "fixed" than earlier paintings. This wasn't necessarily deliberate in that my original "vision" was for a fairly detailed and realistic rendering of the scene. But as the work has progressed, the subject matter seemed to dictate a different approach. I have been experimenting with various glazing techniques, and that is what gives this painting a darker, earthier tone. I hope the finished version will be posted soon.

CM